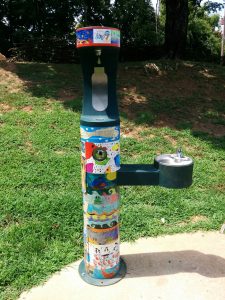 Have you seen the super standout water bottle refill station! The students and staff at MOMAC Studio have collaborated with the Johnson City Public Art Committee and the Tennessee Clean Water Network on a project called "Bringing Tap Back". This statewide project encourages Tennesseans to drink water instead of sugar-sweetened beverages in order to fight Tennessee's obesity and diabetes epidemic. MOMAC designed a creative collage which wraps around a water bottle refill station that was installed at both Carver Park in Johnson City and and later at the Vestal Boys and Girls Club in Knoxville. The project not only improves access to drinking water and raises awareness, but adds beauty and a healthy outlook for our community. Way to go MOMAC students!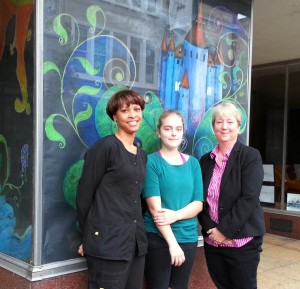 STOREFRONT ART PROJECT – The Storefront Art Project is a part of the City of Johnson City's Targeted Community Crime Reduction Project. By incorporating decorative public art features into storefronts located in downtown Johnson City the TCCRP hopes to reduce blight and give residents and merchants a boost in the pride they have in their community. This results in a greater feeling of ownership and residents taking a more active role in keeping the downtown clean and safe. Since the inception of the Storefront Art Project in 2013, MOMAC Studio has played an important role by regularly providing art to display in windows downtown. MOMAC Studio was included in a story featured in the Johnson City Press in October of 2013 about their participation in the Storefront Art Project.
THE STORYBOOK FAIR (MELO) –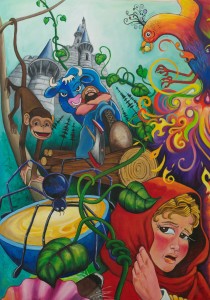 The students and staff at MOMAC Studio have partnered with The StoryBook Fair, a non-profit community literacy organization to share literacy in reading, the arts, and health through the Tri-Cities and our region. MOMAC has created beautiful canvases of artwork on various story genres to complete the Giant Storybooks that make up the StoryBook Maze for our annual StoryBook Fair event (May 2, 2015). These Giant Books with storytellers and readers are available for scheduling in schools, libraries, or your special events. Literacy in reading, the arts, and good health can now be a beautiful and exciting journey with MOMAC Art and The StoryBook Fair.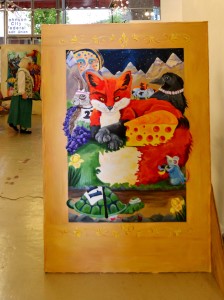 September 2015: MOMAC Chalk Art Event –
During Johnson City's First Friday celebration, MOMAC students, teachers & assistants came out to share their chalk art skills with the community & to promote the appreciation of creative skill & learning.